Finds Sensitive Data & Fixes Privacy Compliance Issues
Avoid financial penalties imposed by the regulatory authorities for misusing sensitive data of individuals. SDD let our client businesses comply with the GDPR, CCPA and etc., lawsuits.
Explores Sensitive Data across Your Data Assets
The Sensitive Data Discovery (SDD) product is an ultimate approach for the identification of sensitive data across enterprise data assets. Knowing & tracking where sensitive data is located is always be a good approach to protect the company's data assets from growing data breaches.
Our advanced software product based on scanning technology help our clients maintain high-privacy to the data. It enables analysts to define every business data elements with specific characters or metadata for an attribute:
Names
Abbreviations
Words
Data types
Lengths
Patterns
Forms
Absolute patterns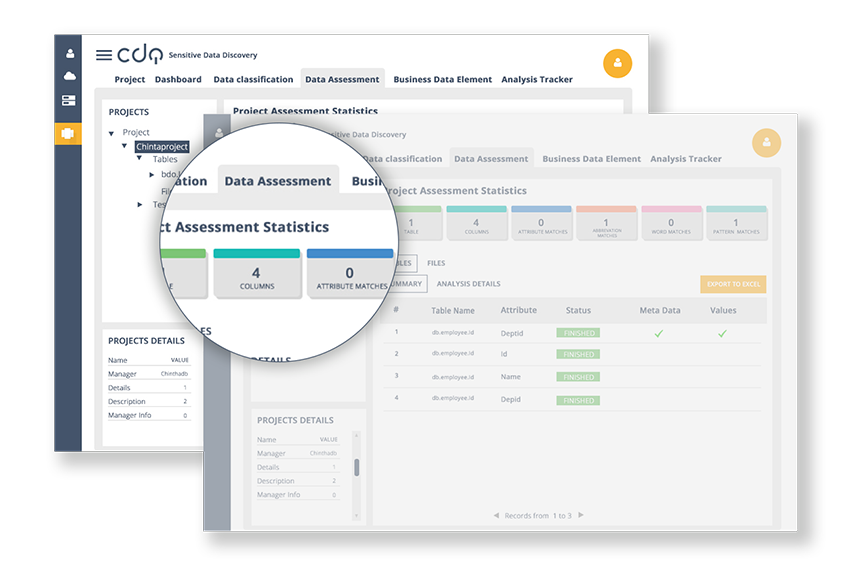 The value patterns are unique to the DQAM technology and allow the analyst to create logic based on combinations of patterns and values. This allows the user to define the rules for things such as social security numbers, credit card details, contact numbers, or any sensitive data. The analyst may also define values specific to the business data element.
Once all business data elements are defined, the analyst then defines the data targets to be scanned and which business data elements to search for in the data. The analyst also has full control over how much metadata to use during the scanning process.
1Hr Product Demo + 30 Days Free Trial!
We made the process of detecting Sensitive Data easy. DQSense's turnkey compliance solution helps to reduce your sensitive data exposure to unauthorized access and become compliant to CCPA.
Request A Demo
Know what our SDD Solution can do for your business!